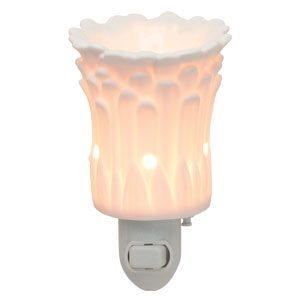 What I love best about Scenty's Plug-Ins is the fact that the plug part is movable. I live in a house that was built in 1893. For whatever reason, many of my plugs are sideways, and the rest are upside down. The plug part of the plug-in being able to swivel is an absolute must for me! Otherwise, how would I get the wax to stay in? :)
I plugged in the warmer, and put in one square of the bar. It smelled just the way I wanted it to smell - like a newborn baby fresh from a bath. There is no sweeter smell in the world, especially with my "baby" starting kindergarten. One small square is the perfect amount for the plug-in.
I have my plug-in in the bathroom. At night, I switch it to the nightlight feature. I was able to toss my ugly plastic nightlight and just use this beautiful shasta daisy! Every warmer from Scentsy comes with a light bulb. No messy tea lights needed! Simply attach the cover and snap it closed! The light bulb is completely covered. So easy!
The bars burn for a minimum of 60-80 hours. I have only used one square, and have burned it for 15 hours already and it's still smelling great! There are 8 squares in one bar! At this rate, I'll be getting 120 hours of great smell from the bar. (Bars are only $5!!) WOW!
If you've never tried Scentsy, now is the time! Once you go wickless, you'll realize it's total bliss! Starting August 1, Patty will have a special on her page! RIGHT NOW, you can enter to win a Scentsy Scent Circle below from Patty Asfour ~ Independent Scentsy Consultant!
Please be patient while the form loads. It may take up to 1 minute.